Eleanor (Margaret) Marie McKay (1931-2010), was born in a small community know as Home Valley in Skamania County on the Washington State side of the Columbia River Gorge. She lived there with her grandmother Clara Marie Berger.
After a few years they moved west up the river to a large house on D Street in Vancouver, Washington. Margaret lived there with her grandmother until her grandmother's passing in 1938.
At age seven she moved to the Barberton area of Clark County, Washington to live with her uncle and aunt, Fred and Rose Berger.
Ken & Margaret Hinshaw - 1997
Helen, Margaret and Jim - 1941
Margaret shared that she remembered walking from the Berger house down the old train tracks to attend Barberton School.
​
After a couple of years, she moved in with her mother (Helen Marie Smith) and her new husband George Rasmussen. As they moved to California and back to Washington, Margaret attended several schools, while taking care of her two younger brothers, James (Jim) Wesley (1941-1997) and William (Bill) George Rasmussen.
After moving back to Vancouver, Margaret attended Ogden Meadows High School (the meadows were named after our 3rd cousin - Peter Skene Ogden).
At that time the high school was located just east of Vancouver. On a current map the old Ogden Meadows' High School would be located towards the center of the current city limits.
​
Early in 1948, Margaret met Stephen Richard Fletcher-(2) at a community dance held at the Orchards Grange Hall.
Margaret & Stephen-(2) - 1948
Susan & Stephen-(3) (Dicky)
Stephen and Margaret were married on the 23rd of October 1948 at her Uncle's (Fred Berger) house located in the Barberton area of Clark County, Washington.
​
They had two Children, a son Stephen Richard, and a daughter Susan Marie.
In 1952 the couple split up and the marriage ended in a divorce decree.
Margaret provided for her family as a single parent over the next ten years. She worked for the Vancouver Housing Authority and then Columbia Machine Incorporated. In 1958 she bought a nice two bedroom house on X Street in Vancouver.
​
In 1961 she met her second husband Kenneth Walter Hinshaw. They married in June 1962. Margaret and Ken moved to a new home on 29th Avenue during the summer of 1964.
​
Margaret changed occupations and took a job with Charles F. Curry a financial bank primarily focused in the home mortgage area. Over the next twenty years Margaret moved from a position of loan officer to office manager, and then regional manager with Weyerhaeuser and then Washington Mutual before opening her own business (Home Mortgage Northwest).
​
Margaret's husband (Ken) passed away on the 18th of July 1999. Shortly thereafter she experienced a severe medical issue that led to the closing of her business. Margaret always took an interest in children that had needs. In retirement she assisted a number of kids throughout the year in meeting some of these basic needs. She loved Christmas and through her generosity used the opportunity to make Christmas a special time for some of these children and their families.
​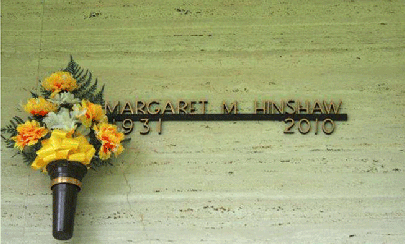 Margaret Marie - Evergreen Memorial Gardens
Margaret, Susan & Stephen-(3)
Stranger On The Shore
-
Acker Bilk
Favorite Music: Bernard (Acker) Bilk
"Stranger On The Shore"